Jewelry
Angie Olami
2000 year old Roman Glass jewelry.
Angie Atkins the designer behind the Angie Olami line has long sifted through the rubble and myths of lost civilizations to find the subterranean history of amulets. From her travels and research, she has designed sterling silver jewelry collections based on the ancient languages, symbols, and cultures of Israel, Mesopotamia, Greece, and medieval Florence. She has spent time as well researching Byzantine, and Roman mosaics. Angie Olami's Jewelry is made primarily in Israel by a small group of handpicked master craftsmen.
Materials Used: Sterling silver settings and findings, real gemstones, seed pearls, Murano glass beads, Czech crystal and hand cut ancient roman glass dating from 100 BCE to 300 CE.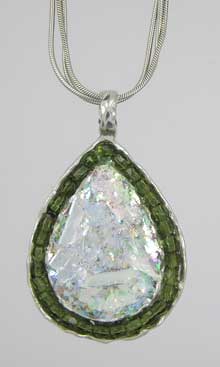 See This Line In Person
Please fill out contact form and we will get back to you ASAP to set up an appointment!